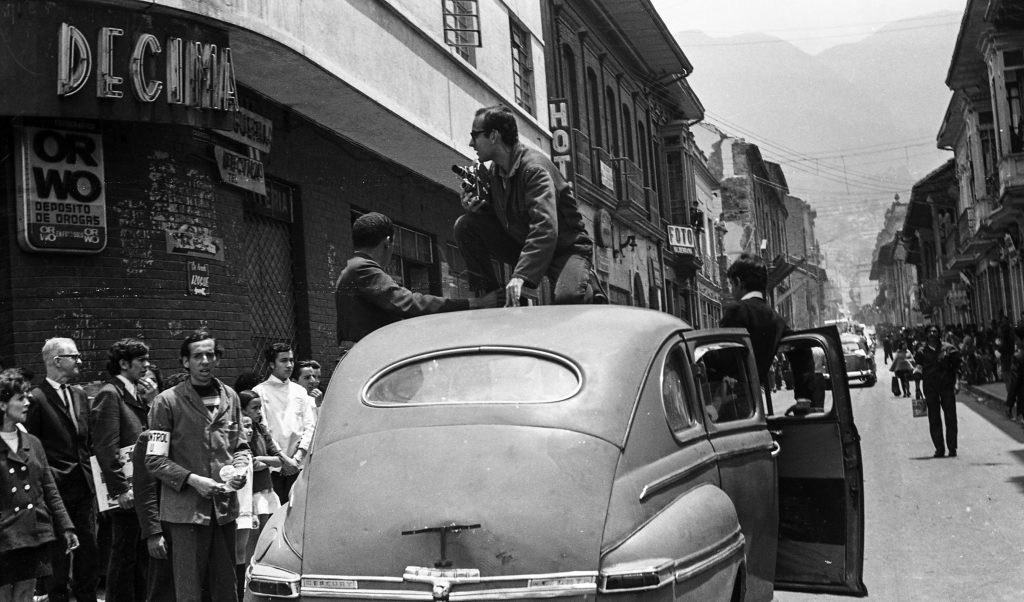 Disassembly and  film archive
This workshop proposes an approach to different practices and uses of film materials and archives in audiovisual creation processes through three case studies. Its objective is to share, reflect and discuss different ways of working with film archives in the creation of critical audiovisual content.
Workshop Coordinator:
JUAN JACOBO DEL CASTILLO
He graduated in History from the Universidad de Los Andes (Colombia) with studies in documentary creation from the Observatorio de Cine Documental (Argentina), and a Master's Degree in Documentary Film from the National School of Cinematographic Arts- UNAM. interested in the history of contemporary Latin American cinema and the use of archives for the construction of film memory. Active cultural manager and workshop leader for exhibition and critical production in Colombia and Mexico. He has served as editor for the short films Yo no canto por cantar (Mexico, 2016); La Fuga (Mexico, 2021); Nunca más un México sin nosotrxs (México, 2021); and for the documentary feature film Las Colonias (México, 2020). El film justifica los medios (Colombia, 2021) is his first feature film as a director, premiering in Colombia at the 23rd MIDBO.
EXTENDED FINAL CUT LABORATORY IN ALLIANCE WITH ECCA / DOCCO / 2.35 DIGITAL
The Extended Final Cut Laboratory is held for the second time within the framework of MIDBO and provides advice to 3 documentaries in the process of editing and final cut (work in progress). The objective of this working group is to reflect and implement conceptual and technical improvements of each selected documentary project through an analysis that allows finding strategies for the completion of each film.
Workshop coordinators:
Carlos Cordero
Film and Television Director graduated from the School of Film and TV of the National University of Colombia. Since 2006 he has worked as an editor and has edited around 25 short, medium and full-length documentaries. Among his works are, El Titán (2021), El Pantera (2021), Los Gatos (2020), Mesa de Tareas (2019), Después de Norma (2018), A Recomponer (2018), Colombia BIO 'Tacarcuna' (2017), Colombia BIO 'El Peñón' (2017), Retornan (2015), A través de la pantalla (2015), Infierno o Paraíso (2012). Founding member of Associated Colombian Cinematographic Editors (ECCA).
Rodrigo Ramos Estrada
Cinephile / Editor. Social Communicator of the Universidad del Valle. Member of ECCA (Associated Colombian Cinematographic Editors). He has worked continuously as an editor since 2008. Among his works are documentaries La Primera Piedra (2009), Cuerpos Frágiles (2010), Hombres Solos (2015), Para verte mejor, ALA (2016), Zapata el Gran Putas (2020)  y ¡Viva Edy! (2021 ). He has also edited  films and short films such as Montañas (2018), El Remanso (2019), Zarzal (2021 ), Epifanía (2017),La Torre (2018)  among others. In 2021 he created POS[T] LA CASA as a post-production house for independent, marginal and radical production.
E.C.C.A
Associated Colombian Cinematographic Editors ECCA, is an association established on July 15, 2016 that sets as objectives the development, training and research in the technique and art of montage, as well as seeking to put in contact with editors who wish to contribute to the consolidation of the profession in Colombia. Some members of E.C.C.A are also members of Alados and participate in the Extended Final Cut Lab.
2.35 Digital
It is a laboratory specialized in digital processes for post-production and image completion. It has two of the most important and talented artists of color and finishing in Latin America, with experience in color correction of various types of audiovisual content: cinema, series, documentaries and advertising.
DOCCO
It is a film distribution company that specializes in Latin American cinema. As part of its audiovisual promotion activity, it carries out the DOCCO LABS training project, contributes to the training of the audiovisual sector in the areas of distribution and production. It will be an ally of the Extended Final Cut Laboratory and its contribution will be to support the selection and accompaniment of the participating projects, as well as the dissemination of the laboratory and the project as a whole on its social networks.
DOCUMENTARY WRITING LAB
The purpose of the Laboratory for writing texts on documentary films is that the participants develop and publish at least one critical text (in journalistic review format), as a result of reflection and recognition of the documentary as a specific field, at the same time as a crossroads of practices that are supported by the breadth of the materials and prompts that reality provides.
Workshop coordinator:
Pedro Adrián Zuluaga
Pedro Adrián Zuluaga is a journalist and film critic. He has curated exhibitions (¡Acción! Cinema en Colombia, National Museum of Colombia), film festivals (Sinfronteras del Valle de Aburrá, Barichara Green Film Festival - FESTIVER and FICCI), and the program En cine nos vemos of Señal Colombia. Pedro Adrián was editor of Kinetoscopio magazine and worked at the Office of Cinematography of the Ministry of Culture and the Cinemateca de Bogotá. He is currently a columnist for Diario Criterio.  He is the author of the books Literatura, enfermedad y poder en Colombia: 1896-1935, Cine colombiano: cánones y discursos dominantes, Qué es ser antioqueño and Todas las cosas y ninguna. In search of Fernando Molano Vargas. In 2018, Pedro Adrián won the Simón Bolívar Journalism Award in the Press Criticism category.
Valentina Giraldo Sánchez
Film student at the National University of Colombia. She writes film criticism for different magazines in Colombia, Mexico and Argentina. She has participated in spaces for thinking and writing about cinema in different festivals and countries, being selected for events such as Berlinale Talents and Talents Buenos Aires. She belongs to the International Federation of Cinematographic Press and Criticism-FIPRESCI and Periferias, a hotbed of film and gender research at the National University of Colombia. She is currently an assistant curator at the Festival de Cine en Femenino and co-directs the Festival Equinoxio. She is also part of the Nucleus of research in visualities of the University of Chile and is developing as a co-researcher the project Contra-mapping the margin: Feminist Audiovisual Methodologies in Bogotá.
COMICS CREATION WORKSHOP.
Series of three comic creation workshops aimed at survivors of the Natalia Ponce de León Foundation, human rights workers, artists and art students who wish to learn how to make comics that address social issues and tell personal stories. You seek to work with experienced comic artists to write, design, color, and diagram a comic, and you learn to integrate augmented reality into the comic. The focus of this workshop is to provide the basic principles of creating a comic book with a social theme understanding the narrative, design, and how and why to include augmented reality.
Workshop Coordinator
Ram Devineni
Documentary filmmaker, editor and founder of Rattapallax magazine. He produced The Russian Woodpecker, which won the Grand Jury Prize at the 2015 Sundance Film Festival and was nominated for an Independent Spirit Award. He is the creator of the augmented reality social activist comic series, Priya's Shakti, which received the Tribeca Film Institute New Media Fund from the Ford Foundation and was supported by the World Bank. Devineni was honored by UN Women as a "champion of gender equality" for creating India's first female superhero character.
Academic Committee Thinking the Real Seminar
Enrica Colusso
Maria Luna
Bíbata Uribe
Sandra Tabares Duque
Mauricio Durán
Juana Schlenker