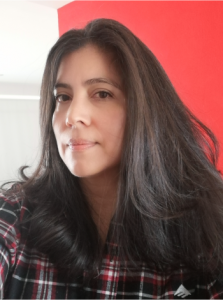 Monika Barrios Cabrera
Executive Director 23 MIDBO
She studied film in Bogota, Cuba, and France (Aix en Provence), where she also attended a year of Art History on Modern and Contemporary periods. In Paris, she worked in productions for ARTE and CANAL+ in the companies Les Films du Village and the Factory. In Bogota, as an audiovisual producer, Monika has worked for independent NGOs. As a cultural manager, she has participated, among others, in different film festivals, was General Coordinator of Ciudad Teatro – Ibero-American Theater Festival of Bogotá – FITB (Festival Iberoamericano de teatro de Bogotá), 2008, 2010, and 2012, and was creator and director of La Noche en Blanco Bogotá – a contemporary art event that took place in public space in Teusaquillo (Bogota) in 2013, 2014 and 2015.
Contact: midbogestion@gmail.com 
Maria Luna Rassa
Directora Artística 23 MIDBO
Since 2015, she has worked with MIDBO as academic coordination, programmer of Retrospective, 20 years, and co-publisher of the book: Territorio y memoria sin fronteras, nuevas estrategias para pensar lo real (2021). In Barcelona, she practices as a documentary teacher at TecnoCampus, Pompeu Fabra University since 2016. Maria is programmer and co-director of Panorama de Cine Colombiano in Barcelona, delegated producer of RTVC, and advisor in the Colombian Ministry of Culture. Ph.D. in Communication Contents in the digital era, (2014, UAB, Universitat Autònoma de Barcelona), Master in Hispanic American Literature at the Institute Caro y Cuervo and Social Communicator at Univalle. Maria published articles on Colombian cinema in New Cinemas, Alphaville, Archivos de la Filmoteca, and chapters in New Approaches to Cinematic Space and Cines Latinoamericanos en busca del público perdido, best essay by the New Latin American Cinema Foundation.
Contact: mariamidbo@gmail.com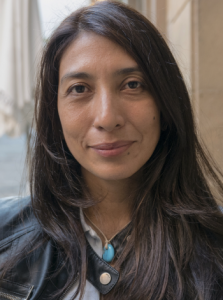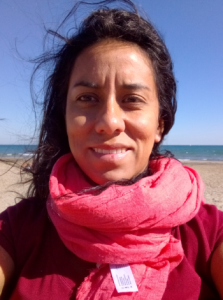 Vanessa Vivas
General Producer 23 MIDBO



Professional in advertising from Universidad Jorge Tadeo Lozano, with a Master's degree in Cultural Diversity from Universidad Tres de Febrero in Buenos Aires, a Master's degree in Cultural Management from Universidad EAN, and a Master's degree in Art Markets from Universidad Antonio Nebrija in Madrid. Vanessa has eleven years of experience in formulating, producing, and supervising cultural projects and events in public entities, private institutions, and civil society, with a solid communication and relationship strategies background. She is currently the Communicator for the Film Development Fund – FDC (Fondo de Desarrollo Cinematográfico) and has been the general producer for seven years of the Cinemigrante International Festival in its edition for Colombia, as well as associate producer of the Itinerant African Film Showcase – MUICA (Muestra Itinerante de Cine Africano) since 2016 and general producer of the Quibdó Africa Film Festival from 2019 until 2021. In addition, Vanessa is the General Coordinator of the Cine Crea Colombia Season in 2020, audiovisual curator, content manager, and cultural journalist.
Contact: midboproduccion@gmail.com 
Susana González Henao - Logistical Producer 23 MIDBO
Film and television professional, photographer, and scenic artist. Founding member of the film and image creation laboratory Tiempo de Luciérnagas. Her work focuses on the documentation of artistic processes, which were the basis for her documentary La Experiencia, about sensory theater in Colombia, as well as the short film Principio de Fantasía, where she participated as a researcher and director of photography.  Additionally, Susana was a member of the cast and production team of the sensory theater laboratory Sensósfera for five years.
Contact: susanamidbo@gmail.com 
Andrés Pedraza - Programmer 23 MIDBO
Film and television producer from the Universidad Nacional de Colombia. Since 2009, Andrés has directed several participative documentary projects, fiction scripts, educational and cultural management processes,  and audiovisual research in Colombia and Argentina. He is currently pursuing a Ph.D. in Social Communication at the Faculty of Social Communication and Journalism at the Universidad Nacional de La Plata and researches audiovisual methodologies and styles in popular training schools. Winner on several occasions of incentives from the FDC /  Proimágenes for screenwriting and feature film (2013, 2014 and 2016), and national and regional short film production (2017 and 2019), and winner of the Moving Image Research Grant of the District Institute for the Arts of Bogota -  IDARTES (Instituto Distrital de las Artes de Bogota), 2019. Andrés is also the manager and legal representative of ALADOS Colombia.
Contact: andresmidbo@gmail.com 
Juan Pablo Franky - Programmer 23 MIDBO
He studied Literature at the Black María Film School and at the Universidad Nacional de Colombia. In Buenos Aires, Argentina, he studied film criticism at the school of the magazine El Amante and studied film at the Combined Arts program at the UBA. Juan Pablo attended workshops with film directors such as Fernando Pérez (Cuba), Víctor Gaviria (Colombia), Arturo Ripstein (Mexico), James Benning (United States), and researchers and film critics such as Jorge Ruffinelli (Uruguay), Thomas Elsaesser (Germany) and Roger Koza (Argentina). As a film journalist, he has been covering film festivals for more than six years, where he has had the opportunity to interview directors, critics, and film programmers from different parts of the world. Juan Pablo programmed and coordinated the film club El hOyO del conejo, was head of press for FECIVE (Venezuelan Film Festival of Buenos Aires), and directed and programmed the Buenos Aires branch of the Shnit Worldwide Shortfilmfestival. He has been a jury member at different international short film festivals (FESALP, Al este del Plata, Tandil cortos). Currently, Juan Pablo programs the International Documentary Exhibition of Bogota - MIDBO, and is a researcher and teacher of the research group PHILOSOPHY, SOCIETY AND EDUCATION (GIFSE) of the UPTC.
Contact: juanpablofrankymidbo@gmail.com 
Pedro Adrián Zuluaga- Programmer 23 MIDBO
Pedro Adrián Zuluaga is a journalist and film critic. He has curated exhibitions (¡Acción! Cinema en Colombia, National Museum of Colombia), film festivals (Sinfronteras del Valle de Aburrá, Barichara Green Film Festival - FESTIVER and FICCI), and the program En cine nos vemos of Señal Colombia. Pedro Adrián was editor of Kinetoscopio magazine and worked at the Office of Cinematography of the Ministry of Culture and the Cinemateca de Bogotá. He is currently a columnist for Diario Criterio.  He is the author of the books Literatura, enfermedad y poder en Colombia: 1896-1935, Cine colombiano: cánones y discursos dominantes, Qué es ser antioqueño and Todas las cosas y ninguna. In search of Fernando Molano Vargas. In 2018, Pedro Adrián won the Simón Bolívar Journalism Award in the Press Criticism category.
Contact: pedroadrianzuluaga@gmail.com 
Bíbata Uribe Cárdenas - Associate Programmer 23 MIDBO
She is an independent researcher, graduated in Art History and Cinematographic Heritage at the University Paris 1 Panthéon-Sorbonne (2008). She is a founding member of El Perro Que Ladra. This collective has been promoting and disseminating Latin American cinema in France for ten years. Bíbata was co-creator of the Panorama du Cinéma Colombien festival in Paris, which held its 8th edition in 2020.  Research, curatorship, programming, and debate on contemporary Colombian cinema are her main areas of work. Bíbata has continued her training through workshops such as Curatorship, Management, and Networking of Film Exhibitions and Festivals at the Escuela Internacional de Cine y Televisión (EICTV Cuba), Expanding Exhibitions: Innovative Approaches to Curating and Professionalization in Contemporary Art Curatorship at Node Center-Berlin.
Contact: investiga.cine@gmail.com 
Juliana Arana - Associate Programmer 23 MIDBO
Graduate in Humanities with an emphasis in Foreign Languages, with studies in Documentary Film and Audiovisual Editing. Juliana has worked in the field of education, audiovisual production, and festivals. She has been part of MIDBO's production team since 2017 and supported the volunteering of festivals such as Ojo al Sancocho, the Gira Ambulante de Colombia, the Muestra de cine En Femenino, and Punto de Vista. She currently works at Iskill Estudio as a producer, filmmaker, and manager of audiovisual projects.
Contact: julianamidbo@gmail.com 
Sandra Tabares-Duque - Expanded Documentary Coordinator 23 MIDBO
Audiovisual producer and founder of Sandelion Productions. Sandra has produced several projects that have won multiple international awards. Experienced in transmedia and immersive narratives and social impact production. She has been a juror in different film funds. Also, she works in training areas in academic institutions as well as in international film events and festivals. She has produced Las razones del lobo, a feature film currently in festivals; INNSÆI, The Sea Within, a feature documentary available on iTunes; Proyecto Quipu, a multimedia documentary selected at IDFA, Tribeca, HotDocs, and The Guardian docs; Parábola del eterno retorno, Numax award at Márgenes festival; and Corona Hakus and COiNVITE, transmedia co-creation projects.
Contact: sandra@sandelionproductions.com 
Catalina Villar - International Advisor 23 MIDBO
Colombian filmmaker living in France since 1984. She studied filmmaking at FEMIS and Varan. Her films El Espectador, Diario en Medellin, Toto la Momposina, Bienvenidos a Colombia, Invente-moi un pays, La Nueva Medellin, and Camino have won awards at international festivals such as Visions du Réel, in  Nyon, Amas Cultura - Portugal, IFFI - Bombay, Cinéma du Réel and Fid Marseille, in France. Catalina has been a member of the Varan Workshops (Paris) since 2000; She organized workshops in Colombia, Albania, Portugal, Brazil, Venezuela, and France, and has taught at FEMIS, Triboudom, Lussas (France), EICTV (Cuba), Pompeu Fabra (Spain), Univalle (Colombia). She is Script-doctor for Maison du film, SCAM, Moulin d'ANDE, l'ALCA-Bordeaux.
Contact: catavillar@wanadoo.fr  
Alexandra Bedoya - Administrative Assistant 23 MIDBO
Industrial engineer with a diploma in Supply Chain Management and experience in administration and accounting. Alexandra advises and supports companies and winners of incentives, scholarships, and awards for the development of projects, and in administration matters in general. She has worked on cultural and audiovisual projects such as the film Virus Tropical (2018), Pixi post y los genios de la navidad (2016), Un asunto de tierras (2015) A recomponer documental (2018) and the Indigenous Films and Video Exhibition - DUAPARÁ (Muestra de cine y video indígena), among others.
Contact: alexandrabedoya4@gmail.com 
Enrica Colusso - Guest Seminar Coordinator / International Consultant 23 MIDBO.
She studied cinema in Rome, where she started her film career. In 1988, she moved to Paris to attend Les Ateliers de Réalisation Cinématographique - VARAN. In 1995, Enrica graduated in Documentary Filmmaking at the National Film and Television School in the UK. She received her Ph.D. in 2016 from the University of Roehampton in London. Her award-winning feature documentaries include Fine Pena Mai - Life after life (1995), No risk no champagne (2002), ABC Colombia (2007), and Home Sweet Home (2012). Since 2013, Enrica has been exploring new forms of storytelling and has been making the interactive documentary project Ghost Town (2013-2016), a multimedia investigation of the transformation of the urban landscape over time. She is currently developing her new documentary, Slow Homecoming. Since 2003, she has been a Reader Lecturer on the Film Programme at the University of Roehampton, London.
Contact: e.colusso@btinternet.com